Save $250 on a New AC System
Free high-efficiency filter upgrade included. Special financing offers are available! Call 610-273-2369 or request a quote today!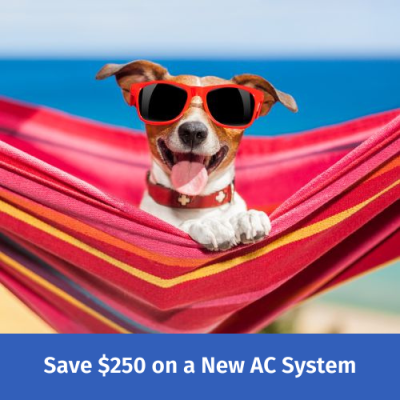 Replacement AC Installation
There are hundreds of ways to install a comfort system; the best way is what's right for you and your family. We devised our Comfort Concerns© program to ensure a system that keeps your comfort our priority. Using Comfort Concerns we design and install an air conditioning system that matches your family's needs and preferences.
Signs It's Time to Replace Your AC
If your home has an older central air conditioning system, you may notice it is not performing as well as it once did. Typically, cooling systems have a life expectancy of 12-15 years; after that, your system will struggle to cool your home. Keep your house cool all summer by upgrading to a new, high-efficiency air conditioning system. We partner with top manufacturers like Mitsubishi Electric, Ameristar, Airtemp and American Standard to offer you the best in home cooling equipment.
Here are some tips to troubleshoot if you may need to replace your AC Unit:
Air Is Not Cold Enough – Even at full blast, the air coming from your vents just isn't as cold as it used to be – or isn't cold at all.
Poor Air Flow – If you are noticing weak or little air flow through your AC vents, the unit's compressor may be failing.
Trouble With Your Thermostat – At times the trouble is not with the air conditioning unit, but with the thermostat itself.
You See Moisture Building Up – Moisture or leakage around or near your system can be an indication of problems.
Your Unit Is Making Strange Sounds – Squealing, grating, grinding sounds from your air conditioner might be a sign that you need a replacement unit.
Bad Odors From Your Vents – Pungent or foul smells from your air conditioning vents normally means that your conditioner's wire insulation has burned out. Musty smells generally indicates that there is mold inside your unit or ductwork which must be taken care of without delay.
No matter what issues you are facing, the experts at Barber Plumbing & Heating are here the help!
Air Conditioning Installation for Chester County & Surrounding Counties
Based in Honey Brook, Barber Plumbing & Heating serves our neighbors in southwestern Chester County, including Exton, Phoenixville, Malvern, Oxford, Elverson, West Chester, Parkesburg, West Grove, Paoli, Avondale, Berwyn, Eagle, Toughkenamon, South Pottstown, Modena, South Coatesville, Eagleview, Pomeroy, Westwood, Kenilworth, South Pottstown, Toughkenamon, and Caln. 
Contact us to schedule an appointment and request a quote on a new, energy-efficient air conditioning system.