Geothermal – Feel Good About Your Energy Use
Sales / Service / Installation
We installed our first geothermal exchange in 1998 and have the experience you can rely on to design and install your geothermal HVAC system from start to finish.
Geothermal exchange systems use the earth's relatively constant temperature to provide a sustainable, efficient, and clean energy source to heat, cool, and provide hot water for your home. These systems provide maximum comfort for your family with numerous benefits to you and your family, your community, and the planet:
smallest carbon footprint
clean energy resource
great option for asthma allergies
renewable/sustainable energy
most efficient heating/cooling system
low maintenance
long-term savings – up to 80% over your current system*
quick payback (Using a sophisticated calculator our comfort specialists will project the length of time – usually between 8 – 10 years – it takes to recoup costs of installation.)
built to last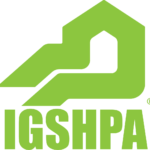 IGSHPA Certified
Having this accreditation means that we adhere to certain IGSHPA standards for geothermal system installation and design. We received geothermal training and accreditation through the original IGSHPA group, who at the time, were at the forefront of geothermal development.
In 2019, the group was dissolved and then became an affiliate organization with The GeoExchange Organization. 
Geothermal System Installation in Chester County, PA
Based in Honey Brook, Barber Plumbing & Heating serves our neighbors in southwestern Chester County, including Atglen, Coatesville, Downingtown, Cochranville, Thorndale, Morgantown, Chester Springs, Glenmoore, and Kennett Square.
Is Your Home a Good Candidate for Geothermal?
After you call the experts at Barber Plumbing & Heating, we'll meet with you to analyze your home and heating and cooling needs, then design a system tailored for your home and manage the rest of the project; design, drilling, electric, ductwork, and equipment installation.
If you've been considering geothermal – act now and you could potentially save money with federal tax credits. (Check with your accountant for state of Pennsylvania incentives.)
Contact us
to schedule a consultation and see if your home is a good candidate for geothermal.